There are lots of interesting new services and apps being introduced at The Cable Show 2012, which is being held in Boston this week. Yesterday I wrote about two different services from Comcast — one being Project Dayview, and the other the X1 video platform and remote control app. Both services are expect to roll out/expand later on this year.
Verizon had an announcement of their own, too, which I received by email. The announcement was for their new app, Viewdini.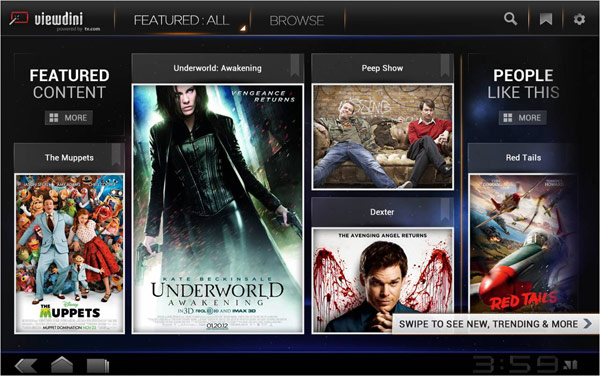 Viewdini is an app that aggregates content from a variety of providers including Xfinity, Hulu Plus, Netflix and mSpot, with more content providers expected to be added soon.
The way it works is simple — customers search for a title, topic or actor, and Viewdini will let you know which service has the video available for streaming on your mobile device, and at what cost, if any, that provider charges for the content.
Based on your searches, and relevant info from the TV shows or movies, links to related content or information is provided as well.
The app is available free to customers, and will first be available on 4G LTE Android devices later in the month, while support for other devices will be available soon. The app can be downloaded from the Google Play store.
[Press Release & Image from Engadget via AllThingsD]