X1 is a giant leap forward, essentially transforming our video product from a hardware experience to a software experience, allowing us to innovate faster and more aggressively.
That's what Marcien Jenckes, the senior VP and GM of video services said about Comcast's new cloud enabled program. Highlights of the new service are being shown at The Cable Show 2012 in Boston, and trials have been in place since August of 2011.
Formally known as Xcalibur, the X1 platform takes advantage of the cloud and the IP technology Comcast has been using for services such as their Xfinity On Demand for the Xbox. This gives Comcast the ability to integrate apps and social media, adding a little bit of interactivity to their traditional video services.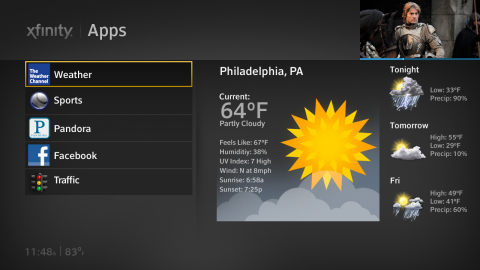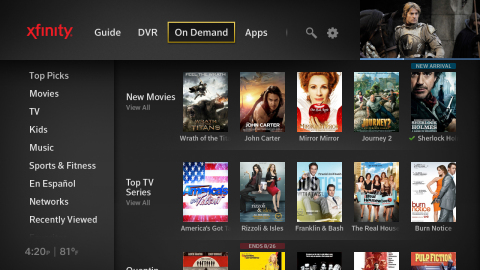 X1 features being showcased at The Cable Show 2012 include:
A main screen with a sleek new user interface that integrates a customer's video experiences and enables one-click access to a highly visual display of entertainment options
Unified search and instant play, along with recommendations, with the ability to find entertainment content in seconds from TV listings, DVR recordings and Xfinity On Demand using a new smart remote
Specially tailored-for-TV features such as customized social networking and music, radio, sports, traffic and weather apps
Equipped with a new hybrid DVR set-top box with tru2way and IP capabilities that delivers an advanced personalized TV viewing experience as well as an enhanced remote control that offers greater responsiveness and does not require a line-of-sight connection to the set-top-box.
What sounds cool to me is the X1 remote control app. This app can be used on devices such as your iPhone or iPod touch, and with the app you can do things like quickly turn through pages of a (interactive) TV guide or shake your device to pause your show. The app can also be used to create short-cuts, links and filters, making it much faster to find the movies, shows and music that you want to watch and listen to.
Boston will be the first city to receive the X1 platform and app, with more cities to follow throughout the year. It'll be available to new Triple Play (HD/DVR) customers at no additional cost.